The Combined Cadet Force Colourised Photo Collection.


In 2020 Mark Loosemore took on the herculean task of colourising the vast majority of the black & white photos shown in the CCF webpage.
Below are the splendid results of his efforts.
The photo numbers are the same as on the black & white webpage.
Two photos from the early war years, courtesy of Gordon Hutchinson:
1 - The earliest photo so far of the Officers Training Corps as it was originally called. This is from either 1939 or '40. Left to right:
Back row: A Moore, ?, G Hutchinson, I Digby, ?, ?, ?;
Middle row: ?, ?, ?, Capt Whitaker, Mr Hill, Tilling, ?, ?, ?;
Front row: (all unknown).
Note the earlier style of tunic, buttoned up to the neck, replaced with the open neck pattern in the early 1950's. Also note the forage caps, later replaced by khaki bonnets.
2 - One year later than the previous photo. Left to right:
Back row: ?, ?, E Burt, I Digby, ?, ?;
Middle row: ?, G Hutchinson, Capt Whitaker, Mr Hill, Tilling, J Piddon, ?;
Front row: G Rawlings, Hoskins, ?, ?.
3 - 2nd Battalion Dorset Home Guard 1944. General Sir Henry Jackson KCB, of Piddletrenthide, has pinned the ribbon of the MBE on D-Company's Commander Major DC Whitaker.
L to R: Major JD Belgrave DSO, Col CD Drew DSO OBE, Jackson, Whitaker.
Photo courtesy of John Pidgeon.
Three photos from the early post-war years, courtesy of Terry Parsons:
4 - Dorchester Grammar School CCF Inspection circa 1947:
Sgt with rifle at slope arms - John White;
Front rank - Terry Parsons, Ray Fooks, Alan Sully, Desmond Long, Gordon Jones;
Rear ranks - ?, P White, Moore, ?, Phillips.
Note that, whereas we wore black berets from the early 1950's, we see here the earlier bonnets made of the same khaki cloth as the battledress.
5 - CCF Signallers circa 1947:
Standing, with 38 sets - L/Cpl Ivor Brown, L/Cpl Cowper; Lying, with 18 set - Cpl Tony Rogers, David Willis, Terry Parsons.
6 - Dorchester Grammar School CCF Camp
circa
1948: Capt. Joe Hopewell and Lt Col. Jimmy Whitaker. Joe Hopewell was a PT master, a real old soldier who had served in the 14th/20th King's Hussars. Note the unusual pattern of his tunic.
7 - Platoon inspection, around 1950. Personnel unidentified apart from Capt. Roussel extreme right.
Photo courtesy of Geoffrey Goss.
Left: 8 - Cadet Brian Wheadon and right: 9 - Cadet Geoffrey Goss, around 1950. Photos taken in the back garden of Wheadon's home, 53 Coburg Road.
Photos courtesy of Geoffrey Goss.
10 - CCF Camp, Pirbright, July 1952, left to right:
Sgt M Turner, S/Sgt J Rawlins, CSM D Willis, Sgt J Dutot, SQMS J Biggs.
Photo courtesy of John Rawlins.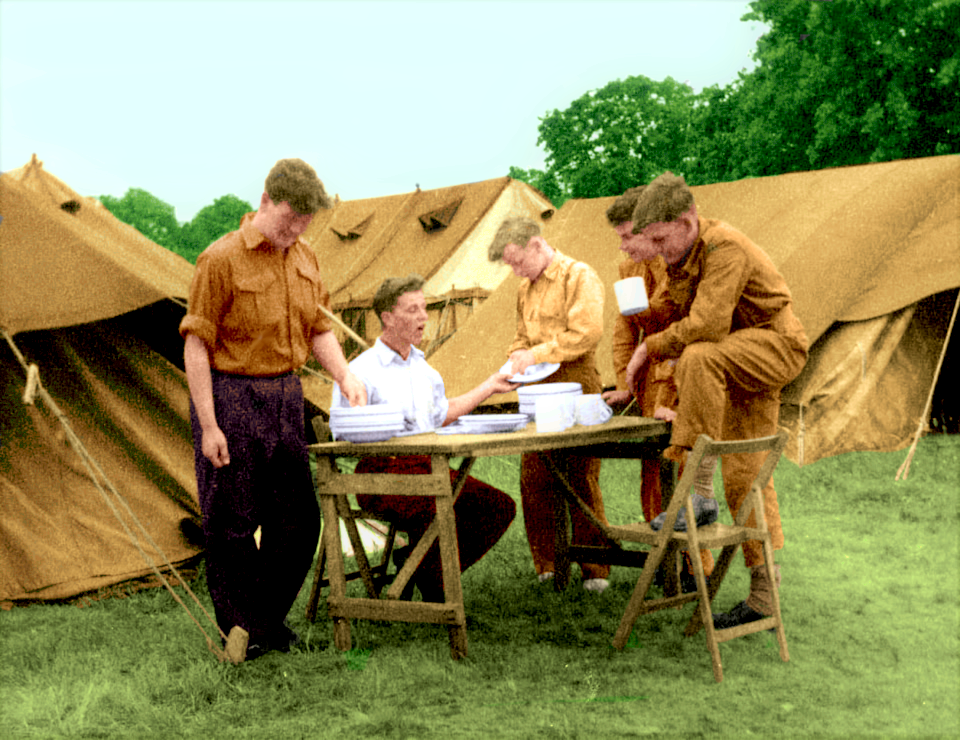 14 - CCF Camp at Bourley, 1955: Dick Cleall left, Geoff Hutchings seated.
Photo courtesy of Bill Johnston.
15 - CCF Camp at Bourley, 1955: Chris Etherington saluting, Phil Daubney on his right, Dick Cleall on his left, IO Pinkham (?) on bugle, CL Kingman taking the salute.
Photo courtesy of Bill Johnston.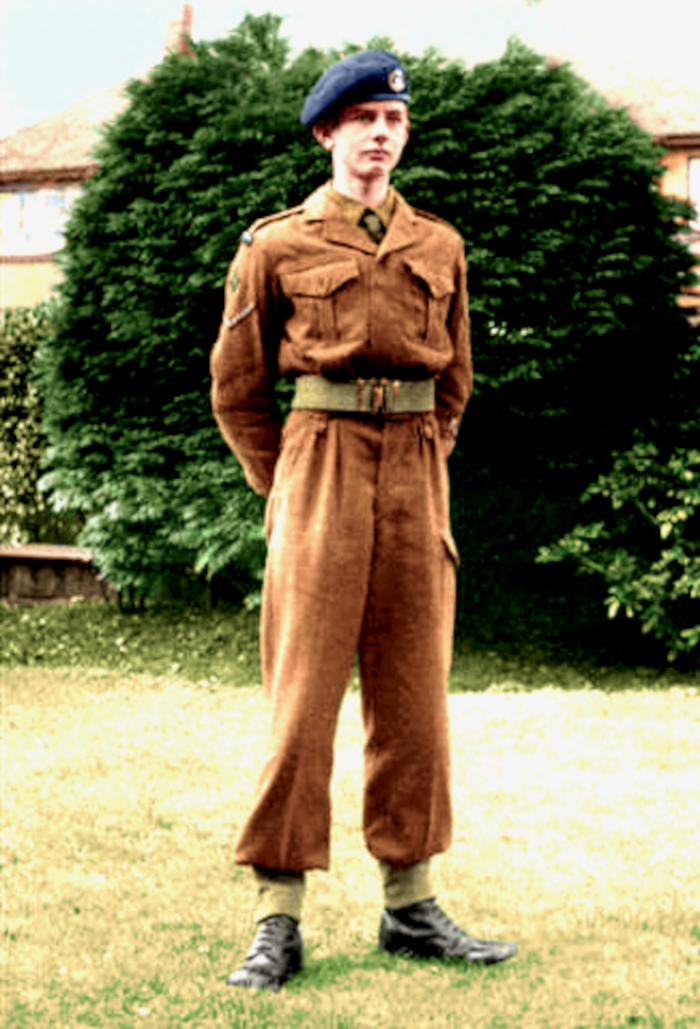 16 - L/Cpl Etherington.
Photo courtesy of Chris Etherington.
19 - Probably CCF Camp at Bourley 1955: Captain Ken Batty (rear left), BJH Barnet (with mug), A Downton (centre), DJ Gould, DP Evans (right facing camera), JA Moore (extreme right).
Photo courtesy of Bill Johnston.
20 - CCF Annual Inspection - probably around 1955.
Photo courtesy of Bill Johnston.
21 - Occasion unidentified, probably around 1955, but clearly cadets from various Cadet Forces (note beret badges).
From Hardye's CCF: Front row: HMH Pain (extreme right);
Centre row: L/Cpl PM Thomas (second from left), Sgt Bill Johnston (extreme right);
Back row: Tim Bowen (third from right).
Bill Johnston writes: I think that picture must have been taken on one of the courses I attended. One was at HMS Heron, the Fleet Air Arm base near Yeovil.
It involved building a Bailey bridge and mucking around with explosives (!) - no, we didn't demolish the bridge afterwards - and I received a cloth badge showing an exploding grenade for attaching to my uniform.
Photo courtesy of Bill Johnston.
22 - The newly-formed Corps of Drums.
From left to right, Back row: NH Sherring, G Hunter, ?, ?, ?, one of the Banks twins, AL Woodhouse, EGB Moore, DJ Oliver, ?, IO Pinkham;
Front row: AE Gray, ?, ?, NH MacDonald, the other Banks twin, D Buckler.
Photo courtesy of Ian Pinkham, who writes:
"I was the one who suggested to CCF Commanding Officer Major Ken Batty that we should have a band in the CCF and consequently got the job of creating it!
This was the first ever photo of the band. I had a home made mace then because the funds didn't run to a proper one."
23 - This is one from the 1956 CCF Summer Camp, courtesy of Tony Williams. From left to right:

Standing: Cpt.R.Barras, Peter "Frank" Zealley, Ted Imms, John Saville, Peter Lawrence, U/O John Dillon, Neil Macdonald, Phil Daubeny, Drum Major IO Pinkham, Chris Etherington (in mufti), Tony Williams, Roger Newton, Brian Nattrass, ?, WJ Pope, RJ Hallett, CD Moore, Anthony 'Taffy' Evans, Bob Rench, ?, D Ralph?, Major K Batty. Seated or kneeling: Cpl Robin 'Reg' Graham, Peter Burke? (in blazer), John 'Luke' Townsend, John Ratcliffe, Chris Borries, Brian Gill, Martin Garner, GN Herbert, ?, Tim Bowen, ?, Andrew Nickell, Mick Northover, Nick Dennis, JM Cartwright?, Alan Congdon, John 'Spike' Hunt, ?, Alan Shaddick, Nick Prideaux, Tony Mugridge, Denis Howe?, John CA Hunt.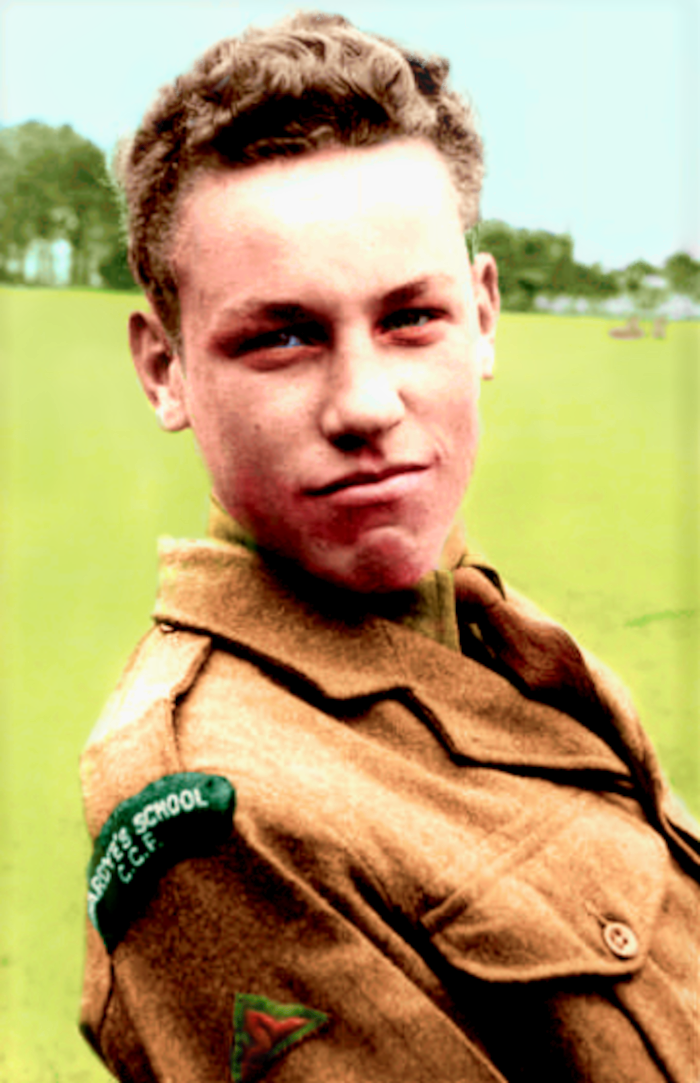 These next five photos have been kindly submitted by Neil Macdonald. 24 - Firstly, the man himself.
The Corps of Drums:
25 - Left: Neil is the drummer on the right, second row.
26 - Right: Neil is to the right of the bass drum.
27 - Left: The Corps of Drums under Drum Major I.O. Pinkham.
28 - Right - CCF Summer Camp followers at Eastleigh Station, 1956.
Left foreground: Chris Moore & Brian Gill.
29 - A photo probably taken at the dedication of the Memorial Gates in 1957.
Recognisable are: leading: CSM ?; front rank, l to r: Sgt A 'Titch' Downton, Cpl JF Samways, CQMS Colin Kingman;
second rank: GP Vincent, CA Walton, (unknown); rear rank: IMT Hare, others unknown.
Photo courtesy of Francine, daughter of Colin Kingman.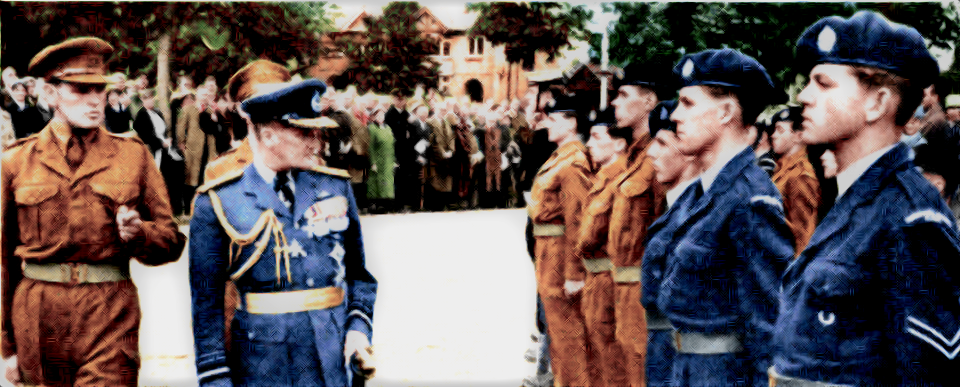 30 - This photo was copied from the 1957 Durnovarian. It shows the Guard of Honour at the Dedication Ceremony of the new School Gates. Recognisable from left to right are: U/O RWB Cleall, Air Marshall Sir Geoffrey Tuttle, with Major K Batty behind, and from right to left: Cpl. PA Sedgwick, T Boucher, PR Tomes, RE Graham, JC Hughes, WI Birrell, FA Barber.
31 - The Corps of Drums 1957.
Left to right: Back row: WF Simms, G Hunter, AE Gray, AL Woodhouse, MJ Davies, IMT Hare, ?, ?;
Middle row: ?, CD Moore, ?, JE Forsyth, WJD Marshall, NG Hibbard, D Buckler, ?, ?;
Front row: One of the Banks twins, P Bell, ?, the other Banks twin, Drum Major IO Pinkham, KJG Milner, ?, DJ Oliver, NH Sherring.
Photo courtesy of Kevin Milner.
32 - The RAF Section Summer Camp 1957 at RAF Lindholme, Yorkshire.
Left to right: Back row: ?, ?, RLE Brown, IE Diffey, J Boucher, Flt/Lt JO Roberts, ?, ?, ?, ?, ?, JC Hughes, Sgt HMH Pain;
Middle row: JR Martin, ?, GD Standring, R Davies, ?, ?, WS Easton, JGA Neades, ?, GR Tookey, ?;
Front row: DAR Beaton, JA Robertson, ?, ?, ?, ?, CJ Sharpe, C Borries.
Photo courtesy of Grahame White.
Geoff Standring writes:"There was at least one other CCF contingent present at that camp. I remember that we were billeted a long way away from the centre of the action on the outskirts of the camp. The powers that be wanted to test the station security, so they asked us to see if we could obtain anything that might be a security risk. As a result, we managed to get into the control tower at night by opening a window via the fanlight. We managed to fill a sack with restricted and secret documents from various sources. I won't say we were thanked because it was obviously an embarrassment to the senior officers, but we heard that the station security officer was sacked!"
Here now are the photos of the 1958 Annual CCF Inspection - all taken by Nick Boultwood. The date was 12th of June, and the Inspecting Officer was Maj-Gen Duncan. These were originally shown on my first website. Under each, I have put the names of people that I can recognise and remember. The size of the group in many of these photos is often quite large and the clarity is not the best, making identification more difficult. The numbers are just for my reference purposes - please quote in correspondence. My apologies to those whose names I have either got wrong or have forgotten. If you can put me right on any of these, please e-mail me.
33 - Royal Navy section: Taunton-Rigby, Damen & "Ali" Barber leading, Tim Bowen in charge. And the Band played on...
34 - Under Officer "Tubby" Cleall, foreground, faces the parade, with CSM John Saville in front of the Army section, and (tall) Mike Snelling front row (feet obscured by Saville) are the only positive identifications I can make.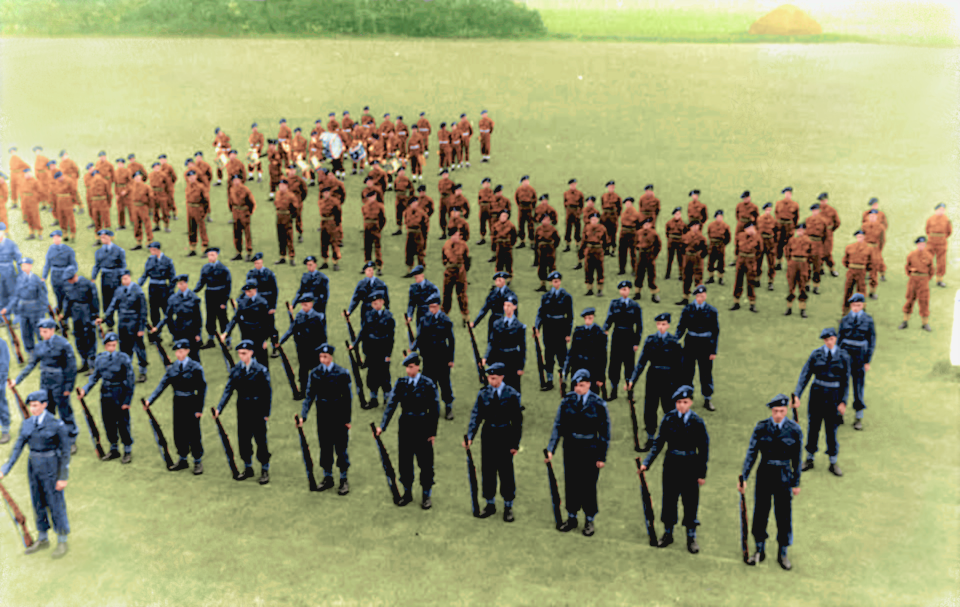 35 - Royal Air Force section (foreground), fronted by W/O Robin Tomes. The Corps of Drums in the background.
36 - RAF section. Front row from the right: I E Diffey, Graham Allen, R L Brown, J Boucher, R Davies, others unknown.
37 - Taking the Salute: P/O Rogers (nearest camera), F/Lt JO Roberts, two visitors, Major Ken Batty, Maj-Gen Duncan on rostrum, visiting naval officer, Mr Tompsett (rank?), Captain R Barrass.
38 - U/O Cleall reports Hardye's School CCF ready for inspection.
39 - Inspection starts with the RN section, headed by Tim Bowen. Roger Newton(?) is being spoken to, John Perry stands to his right. "Luke" Townsend extreme left (Sorry - don't know the naval ranks.) Behind them, in the Army section, we see Cpl Robin Miller & L/Cpl Mick Humphrey (I think).
40 - Sergeant Ken Rushen is chatted, Mike Snelling stands to his left, Nigel Pitcher on his right.
(Mike Snelling is a gifted jazz clarinet player, and was even then. Earlier this year I heard a recording of him in a relatively recent group on BBC radio.)
41 - Mr A N Hamilton, Headmaster.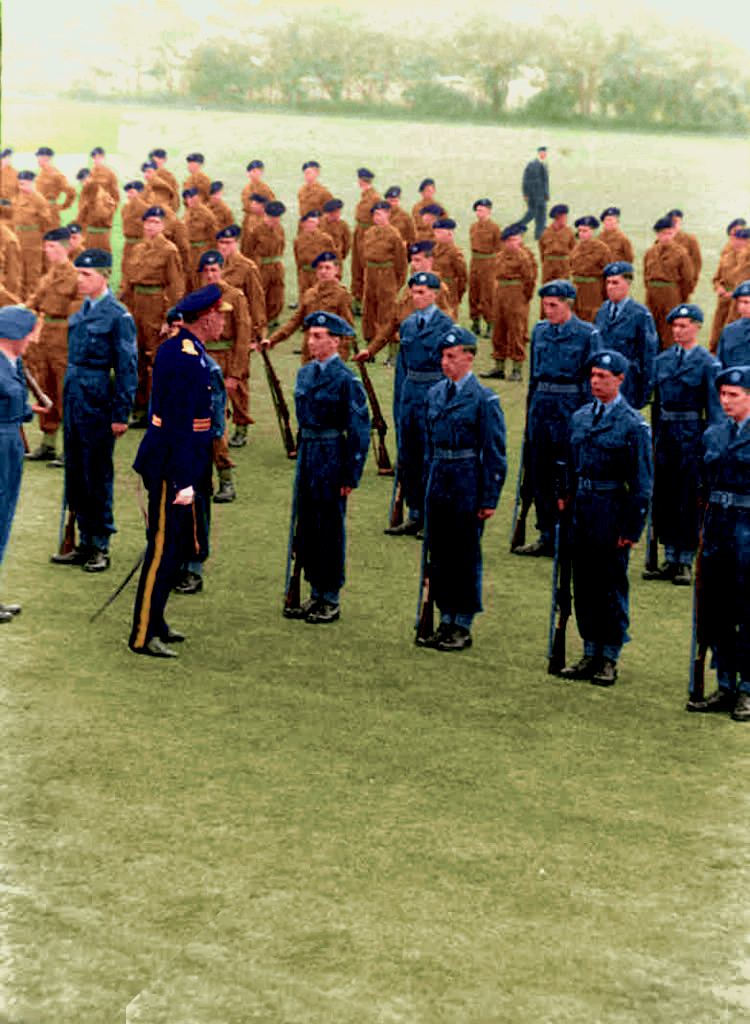 42 - RAF section. Front Rank, from left of picture: Sgt HM Pain, ?, Cpl JC Hughes, Nigel Newbery, Malcolm Freeth, Alan Neades. Middle Rank: Godfrey Lee, Denis Howe, Geoff Standring.
43 - RAF section: Front Rank, from left of picture: R L Brown, Graham Allen, I E Diffey. Godfrey Lee is two rows back behind Brown, and Will Pope is behind Diffey.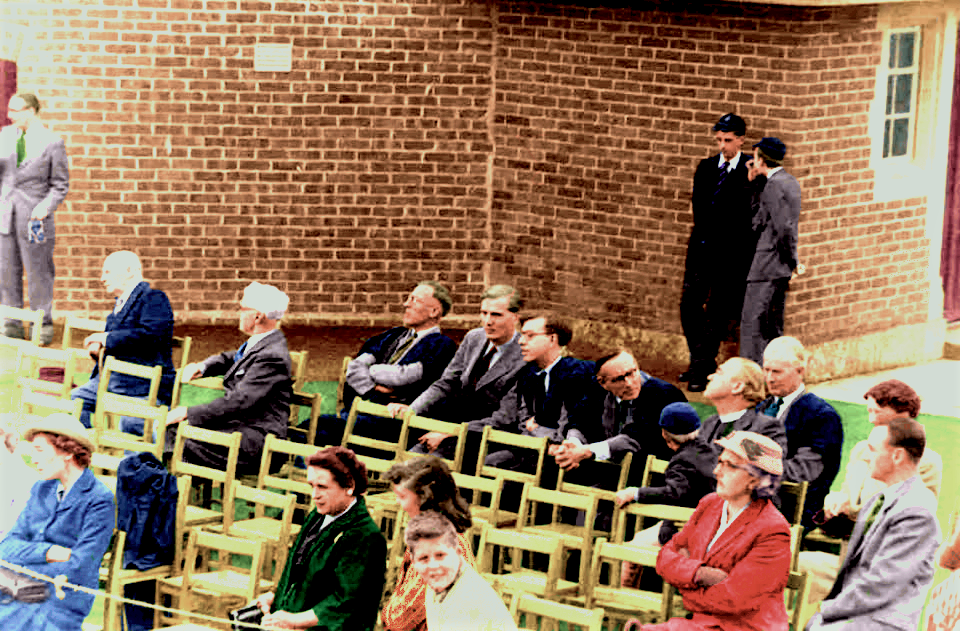 44 - Spectators seated by the Cricket Pavilion, including (l to r) Messrs Jimmy Whitaker, Stan Walton, Berry, Lambart (Assistant Housemaster at Southfields), Bertie Cruse, & Kenyon.
45 - Sixth Form Hut & Groundsman's Shed in background.
46 - Sgt RJ Hallett, with Ron Cave on his right. (Capt R Barrass, left)
47 - In the centre, Sgt Banks.
Photo courtesy of Roy Carder.
48 - Inspecting Officer checks cadet's boots, while Ken Batty checks I.O.'s boots.
49 - Who's that 'orrible little man in front who can't resist looking over his shoulder when he's at attention? RSM Meakin ("The Mekon") from the Dorsetshire Regt barracks at the Top o' Town would've had his guts for garters - or worse.
50 - Cpl Nick Prideaux (Sgt Geoff Hunter in the background with the Corps of Drums).
51 - Here we see Cpls John Hunt, Mick Northover and Bob Rench, with U/O RWB Cleall, Maj-Gen Duncan, Major Ken Batty and CSM G Bartlett.
Photo courtesy of John Hunt.
52 - RN section marchpast, Moore leading, "Ali" Barber extreme right.
53 - End of RAF section (out of step!!), followed by the Corps of Drums.
54 - CSM John Reiss (Tim's elder brother).
Now some photos of the 1959 Annual General Inspection.
55 - First, the Inspecting Officer has a word with Bugler Barry Hunt.
On the extreme left is Tim Bowen of the Royal Navy Section. Drum Major Geoff Hunter stands by the Inspecting Officer. Right centre is PJM Hart, with L/Cpl RJ Fletcher in the background, and extreme right is L/Cpl Russell.
Photo courtesy of Barry Hunt.
Geoff Standring's photos from our 1959 RAF Summer Camp to RAF Wildenrath, Germany, which was arranged by a fortunate liaison between Fl/Lt JO Roberts and the father of the (3) brothers Witt in Southfields, who was a Wing Commander in the RAF.
60 - Left: Ian Diffey, Colin Sharpe, Chris Witt (whose father was instrumental in getting us invited to RAF Wildenrath, Germany), Richard Loveys, Joe Roberts, Dickie Duckett, ?.
61 - Right: Dickie Duckett & David Hide?.
62 - Left: Who's that leaving the local bierhaus (Cafe Peter Kroll, Rossbach)? Richard Loveys, Charlie Witt & David Hide.
63 - Right: Waiting to fly back home - JC Hughes, David Hide, Colin Sharpe, Graham Allen, the luckless Ian Diffey and Chris Witt.
I say 'luckless' because I remember Ian Diffey brought back a bottle of red wine in his suitcase, which was broken somewhere in transit. Also, during the camp, it was rumoured that Joe Roberts had placed a crate of beer at the top of the nearby high hill, and the first of us to climb it next morning could keep the beer. Chris Witt was up at the crack of dawn, climbed the hill, and upon return revealed that it had all been a hoax.
64 - Cpl Godfrey Lee and Graham Allen indeed "keeping the motorway tidy".
65 - Annual General Inspection, 1960 - Royal Naval Section.
Photo courtesy of Kevin Milner.
66 - Jack Crewe sent in this photo and the two below, saying:
"The RAF were offering the opportunity for school pupils to apply for scholarships which would enable them to learn to fly. I duly attended an interview at Hornchurch and received the award which would take up most of the 1960 summer holidays. There was an airfield at Purewell near Christchurch, and in one corner of the field was the privately owned Christchurch Aero Club. We were trained on Tiger Moth biplanes [see photo above - this is also possibly the aircraft shown in Photo 57 above] and during the course we were expected to learn to fly solo, which included rolling, looping and spinning as well as flying cross-country to other aerodromes.The cockpits were open and take-off speed was 57 mph!
"I completed the course and became hooked on flying. I continued to work part-time at Christchurch Aero Club on duty at the pumps for the remainder of the holidays, being paid for my work with two hours free flying per week. One duty included swinging propellers to start the engines!
"Continuing at weekends during the autumn, I earned sufficient time to learn to convert to flying Austers [see Photo 67 below] and also a third type of light aircraft.
"During Easter 1961, I was working at the Aero Club when two Hardye's pupils came across. They were taking a gliding course at a gliding club in another corner of the field [see Photo 68 below] and told me that a third pupil had failed to turn up for his course and his place was vacant. When I arrived back at school at the end of the holidays they were surprised that I had a gliding licence as well!!
67 - Left: Jack Crewe in an Auster;
68 - Right: Hardye's boys learning to glide - Anyone know who they were? If so, please e-mail me
69 - U/O John Hunt escorts the Inspecting Officer during the 1961 Annual Inspection.
Photo courtesy of John Hunt.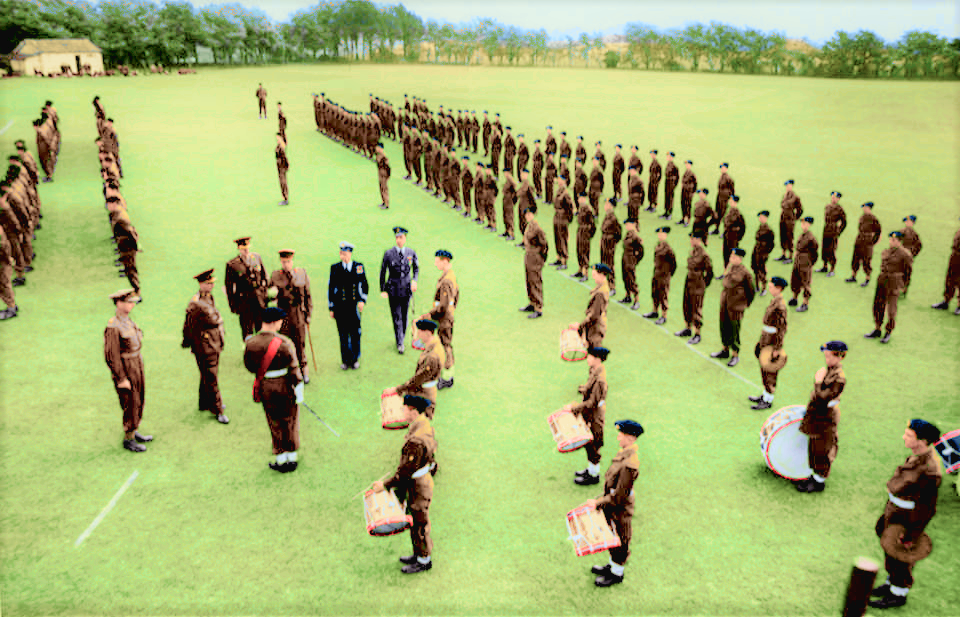 70 - Recognisable here during the 1961 Annual Inspection are Major R Barrass (left of group) and U/O John Hunt (with sword). Mark Loosemore appears as the left hand drummer in the second row, just in front of Michel Louis Hooper (now Hooper-Immins) on cymbals.
Photo courtesy of John Hunt.
71 - The Corps of Drums at the Annual Inspection, 19 May 1961.
Left to right: Back row: Brian Cambray, Peter Broad, Malcolm Rogers, Tony Day, Hindley, ?, Robert Ackroyd;
Middle row: John Hall?, Alan Brown, Graham Goldsack, Graham Hayfield, Alan Morris, Neville Lofthouse, Michel Hooper-Immins, Mark Loosemore;
Front row: Gavin Easton, Ian White, Barry Hunt, J Harrison, Nick Sherring, Greenshields, Roger Pinkham.
Photo courtesy of Mark Loosemore.
72 - The Guard of Honour being inspected by Maj-Gen GM Wood at the ceremony of Laying the Foundation Stone of the new laboratories, Old Boys' Day 1961.
U/O John Hunt right, with sword, Maj Barrass behind.
Photo from "The Durnovarian" 1961, courtesy of Mick Humphrey.
73 - A photo that I "stole" from Stewart Easton's gallery on the Hardyeans' Club website. (Sorry, Stewart! Hope you don't mind.) 1961 I estimate. Sgts. Stewart Easton & John Gleghorn, W/O II Godfrey Lee and Nick Lee (son of schoolmaster "Bunny" Lee) nearest the camera, et al, contemplate the wonders of the jet engine. John and Godfrey must have been in their third year Sixth form.
74 - The Corps of Drums in 1962.
Back row, l to r: Robert Ackroyd?, ?, ?, ?, Hindley?, Tony Day?, Nick Sherring, ?, ?, ?, ?;
Front row: ?, Aubrey Peters, Mark Loosemoore, Dave Nother, Robert Smeaton, Gavin Easton.
Photo courtesy of Aubrey Peters.
77 - Annual Inspection, Summer 1963.
Photo courtesy of Derek Gallop, who writes:
"I have no idea why I have this picture. I had nothing to do with Corps Band other than to try and keep in step with them when marching with the RAF section. Hopefully other Old Boys can put some names to the faces. Nick Sherring is the Drum Major, & the drummer (left) is Ian White. Any takers?".
78- Two photos from the same 1963 Annual Inspection, courtesy of Keith Warnock, who writes:
"I was at School from '60-'63 as a boarder at Heathcote, and in '63 was Under Officer of the CCF. I am the guy out front carrying the drawn sword, and leading the RN section is PO Keen who played rugby for England. This was the only occasion in my life when I have paraded with a drawn sword as when I left school I joined the Royal Army Medical Corps who do not draw swords on parade. I retired as a Lt Col in '99 after a very rewarding career in the Army."
79 - (see above)
80 - RAF Section.
Photo courtesy of Andrew Moore.
81 - RAF Easter Camp, Thorney Island, 1963.
Photo courtesy of Andrew Moore.
82 - Annual General Inspection 1964.
Left to right: RSM John Barbara, Sgts. Dave Comely, Robin Laidlaw, and Dave Knapman.
Photo courtesy of Dave Knapman.
83 - Gun Drill under RSM Das Gupta.
Photo courtesy of Andrew Moore.
84 - RAF Summer Camp, St Mawgan, 1966. About to be swallowed up by an Avro Shackleton:
Back row left to right: Peter Davies, Bernie Bloodworth, Peter Norman, Simon Humphries, Robert Cowley, Tim Howell, Keith Hewitt, Derek Gallop, Peter May, Leo Ingenhaag, Roger Hammett, Michael Dacombe, Martin Hargreaves;
Front row: Nick Waterfield, Mervyn Brake, David White, Andrew Batchelor, John Sloper, Paul Chaplin, Mr Tony Paul (Maths), Mr John Dibb (Chemistry), Steven Hickey, Jamie McCulloch, Paul Worledge, Graham Buckett.
Photo courtesy of Chris Stephens.
85 - Annual General Inspection 1967 - l to r: Kelvin Holmes (with Sword), Mr AGW Paul, Inspecting Officer, Mr DC Lacey, rest unknown.
Photo courtesy of Kelvin Holmes.
86 - Annual General Inspection 1967 - l to r: Mr DC Lacey, ?, Kelvin Holmes, Inspecting Officer, rest unknown.
Photo courtesy of Kelvin Holmes.
87 - Occasion unknown, but most probably 1971: Second from left - Nigel Harding, extreme right M Bryant? Note the cap badges: Wessex Regiment.
Photo courtesy of Nigel Harding.
88 - 1974 General Inspection. Left to right: ?, C Brook, Ellery, Inspecting Officer, Captain Andrew MacTavish, Major David Lacey CO of CCF.
Photo courtesy of Andrew MacTavish.