THE DURNOVARIAN 1979-80


THE GOVERNING BODY

Chairman: J.M. Keeping, F.C.A.
Vice-Chairman: Lt. Col. D.H.C. Worrall, M.C.

The Mayor of Dorchester
W.S. Best, Esq., J.P.
R. Fare, Esq., J.P.
R.L. Parson, Esq.
C.F. Allard, Esq.
L.D. Frisby, Esq.
W.M. Trewhella, Esq.
Dr. C.A. Bailey A.E. M .A. DPhil.
T.C.R Pope, Esq.
Mrs. G.G. Powell
The Ven E.J.G. Ward, M.V.O. M.A.
A.D.W. Biles, Esq.
Mrs M.R. Debenham
C.R Rigger, Esq.
Lady Warner
A. Birchenough, Esq.
Clerk: Major B.G. Kirby
THE SCHOOL STAFF (SEPTEMBER 1979)


W.M. Thomas (Head Master), A. Walden (Deputy Head Master), RH. Davies (2nd Deputy Head Master), P.H. Lewendon (Senior Master),
J.R. Pope (Head of Sixth Form), D.J. Lewis (Head of Fourth Year), J.B. Hawthorne (Head of Lower School),
N. Applegate, N.L. Baker, A.W.G. Best, D.M. Bowen, M.J.C. Bowman, Mrs. B.J.D. Bryant, R.J. Cain, N .G. Chislett, G.R. Cooke, R.J.S. Daniell,
Mrs A. Drewe, Mrs J. Eastmond, C.L.M. Farr, P.D. Green, T.J.R. Griffiths, J.F. Herbert, D.C. Lacey, B.E. Lawrence, Mrs K. Lee, G.H. Lee,
T.D. Lee, J.S. Lineton, N.J. Lord, A.G. Mawer, T.P. McLelland, P.J. Mercer, R.C.B. Mole, R.J. Moss, R.W.A. Pontin, W.D. Pyke,
Mrs P.A. Sams, B.A. Savage, M.N. Shaw, Miss C.K. Sherwood, R.E. Sims, D.W.B. Spriggs, D.F.R Stokes, D.A. Strong, Mrs L.C. Williams, W.A.P. Vekic,
D.R Wheal, P.A.W. Wood.

The following colleagues will be working at both Hardye's and St. Mary's School, Puddletown: F.J. Clark, C. Nice, H. Watkins.

The following colleagues will be working at both Hardye's and Dorchester Modern School during the present academic year and, thereafter, at Hardye's: R.H. Butt, W.B. Cope, S. Reakes, T. Sawtell.
THE DURNOVARIAN 1979


Editors:
D.M. Bowen, James Clewlow, Darren Crispin,
Tony Crocker, Andrew Leslie, Richard Litson,
Mark Lewis, Michael Miller, David Mussell,
David Price.
The final year of the selective School was one of great activity. The amount of preparation necessary for the change to an all-ability School called for an unusual effort from all concerned and it is a tribute to staff and boys that the year's activities were undiminished. In looking forward to the new School the staff attended a residential weekend conference at the beginning of March at Dillington House, residential centre of the Somerset Local Education Authority, at which a number of topics relating to the future were discussed at length. Each School department continued to make its own detailed preparation for the new year and the building operations continued. As a result of a large expenditure by the Governors of the School, the Local Education Authority and the Department of Education and Science the new School will be very well equipped when the additional boys arrive in September 1979. The latest building additions include the new Office area and considerable provision for the Sixth Form, to replace the old gymnasium , extra rooms for English, History and Classics, a remodelled area for mathematics and computer studies, and new geography, remedial education and career education departments. We still look forward to the music centre and all-weather playing surface to be built at the Governors' own expense.
The major rebuilding about the 1927 building has involved the Governors, and notably the Clerk, Major B.G. Kirby, in a vast amount of detailed work and it is particularly appropriate that a new Governors' room has been completed to enable Governors' meetings and discussions to take place without disturbing the School at work. Notable also, this year, was the completion of the new CCF building, officially opened by General Sir John Archer KCB OBE, during the 1979 Annual Inspection.
There were some staff changes and promotions during the year, when we said farewell to the following masters who left after many years' service. Mr. J.R. Roberts left at Easter to become Head of Sixth Form at Faringdon Comprehensive School, Oxfordshire, while Mr. A. G. W. Paul retired after 19 years' service to the School. Mr. G. Ryall also retired, after 14 years work at the School, while Mr. B. D. Miller moved to Colston's School, Bristol to become Head of Sixth Form. Mr. J. J. Waterman accepted a position with a yacht charter company in the West Indies. Mrs. J. Painter left to start her own family while Mrs. Briggs, Mrs. Kohn and Mrs. Lister-Hetherington left after having given invaluable help as part-time assistants.
To replace these members and to increase the staff complement from 39 to 51 the following appointments were made:
Mr Richard Cain: Head of Physical Education
Mr Neal Chislett: Assistant for Physical Education
Mr. Geoffrey Cooke: Head of Classics
Mrs Angela Drewe: Assistant for Mathematics
Mrs Joyce Eastmond: Assistant for Mathematics
Mr John Herbert: Assistant for Modem Languages
Mr Christopher Leach: Assistant for Science and Religious Studies
Mr. Gavin Lee: Head of Remedial Education
Mrs Kathleen Lee: Assistant for Modem Languages
Mr Trevor Lee: Assistant for Religious Studies and Tutor at Southfield House
Mr David Lewis: Head of Fourth Year
Mr John Lineton: Assistant for Physical Education and Tutor at Heathcote House.
Mr Guy Mawer: Head of Chemistry
Mr Philip Mercer: Head of Economics
Mrs Patricia Sams: Assistant for Design
Miss Celia Sherwood: Assistant for English
Mr Peter Wood: Second in English Department
In addition, the following colleagues will be joining us for part of the week:
Mr. R. Butt: Assistant for Design (Wood Work)
Mr. F. J. Clark: Head of Careers Education
Mr. W. B. Cope: Assistant for Design (Metal Work)
Mr C. Nice: Assistant for Design (Metal Work)
Mr T. Sawtell: Assistant for Design (Technical Drawing)
Mr H Watkins: Second in Design Department
Mr S. Reakes: (History)
We also welcome Miss Margaret Price who joins the School as Head Master's Secretary. For the Autumn Term Miss Price will work alongside Miss Power and will assume the full responsibility when Miss Power retires in December.
The Modern Language Assistants for the year are:
Monsieur Abderrazak Sassi (from Tunisia) and Herr Reinhard Kemnitz (from Germany).
Thus the School roll will rise from its present 620 to 840 in September 1979, and will remain constant in this figure for the year to come, except for the year 1980-1981 when it will rise, for the one year only, to 950.
During the year the PTA has again raised considerable sums of money. The most notable money raising occasions were the Sponsored Walk, which raised over £1,800 for the use of the Dorset County Hospital to establish a leukaemia treatment room, and the fine effort of the Sixth Form in raising £500 for Hawthorne Lodge (by the 'line of pence' in South Street during one week in July).
The Summer GCE results were most pleasing and thirteen boys return to School in September 1979 to take Oxbridge examinations, this being the School's highest ever entry for these examinations.
As I look into the future I am convinced of the immense potential which this School has for good. The potential will be realised by the competence, consistency and caring of the staff and the cooperation of parents and friends under the control of the Governors. I would venture to quote an ancient source - to be pondered as we move into the future in a period of change:
'Stand at the crossroads and look;
ask for the ancient paths,
ask where the good way is
and walk in it.'

A.G.W. PAUL


Tony, product of the Weymouth College which ceased to exist in the early war years and Exeter College, Oxford, in 1938, realising the inevitability of war took a regular commission in the Royal Air Force. After war service, when he flew with Coastal Command until 1942 and then served with Training Command, he returned to Weymouth first to help in his father's hotel business then to set up a business with his wife Lavender and also worked with J.T. Groves and Son as a brewer.
Then in 1958 as he had wished for some time he joined the teaching profession by taking a post at Chippenham Secondary Modern School for Boys. Against this interesting and varied background Tony joined Hardye's in January 1960 and brought with him that experience of life and understanding which gave him adaptability with so many types.
Here he taught English and Maths with some ingenuity and no small success generally to the less able. Many have cause to be thankful for his efforts in steering them by his own particular methods to successful grades. For he did have an understanding of human nature which reached many. He contributed in other ways to the life of the school in his early days notably in the R.A.F. section of the Combined Cadet Force and for some time as Librarian where he wrestled with the problems of a library, overcrowded and used for many other purposes.
Above all he will be remembered for his genial and good nature, his tolerance and his ready wit tinged with cynicism. No longer will we hear his chuckle, see his battered R.A.F. cap and tattered chalky gown, the odd milk bottle, packets of biscuits, the taking of Rennies, and enjoy his keen brain in the solving of cross word puzzles. How often Tony lamented of late 'No time for crossword puzzles' and with the demise of 'The Times' lunch times were never the same.
Our best wishes go to Tony in his retirement. Long may he enjoy those things which delight him, not least of all his gardening.

A.G.W.Paul G. Ryall
G. RYALL
'Geoff' joined the staff of Hardye's in September 1964 to teach English and as House Tutor to Heathcote House. He had entered the teaching profession in 1952 after taking a degree at University College, Exeter which he had entered after War service during which he served with the First Airborne Division at Arnhem and was one of those who managed to escape capture by crossing the River Rhine. Much of the courage that he showed in those years after leaving Exeter School in 1942 was much in evidence in his years with us. For he never was afraid to speak his mind and voice his opinion when he felt standards and principles dear to him were in jeopardy.
For some fifteen years Geoff gave loyal and devoted service to Hardye's and the boys with whom he had contact. This was evident in the sphere of the games field where he brought all his Rugby skill into the coaching of back play at First XV level and on the cricket field where he welded several successful Colts sides. Both these fields brought their rewards and much pleasure to him. The Jimmy Carlton XV, probably the best side produced by the school in some thirty years, was in no small way due to his efforts whilst more recently the success of the Under 15 Colts Cricket team in reaching the semi-finals of the Lord Taverners' Nationwide competition again was the result of much time given after school hours and at weekends . All this however came second to his teaching and studies. He was most conscientious in the class room especially when latterly he was made Head of the Classics department. He was never happy when any form of distraction or interference prevented his continuity of teaching with any age group.
It was, in no small way, that his abilities in all spectrums of education led him to the Housemastership of Heathcote in 1970. He served this house, in company with his wife, Sue, and his growing family, with the same degree of conscientiousness and devotion. Many boys have good cause to remember long after their stay at Heathcote Geoff's words of wisdom.
Nevertheless his anxieties about the future and his difficulties of reconciliation with reorganisation led him to premature retirement to Weymouth where he lives with his family and carries out his service to education at Thornlow School.
Geoff will be missed for his indomitable manner, his forthright statements and for his friendly and sympathetic interest in his fellow men.
P.H.L.

A. T. KING


The boys who left the upper sixth this year arrived at the School with Alan King. It seems appropriate, in many ways, that he should leave with his peers.
He always took a lot of interest in the boys both in their academic achievements and in their sporting progress. It always seemed to me that what made him a good teacher was not only that he could get his subject across but also that he cared about the boys, he enjoyed being with them and he could laugh with them.
He will be missed, too, in the staffroom where his wit, sparkle and enormous joie de vivre livened many a lunch hour or meeting. Staff sporting events will also have to do without the star bowler of the cricket team and the leading goalscorer of the staff football side.
He is now at Read's school in Surrey, a small boarding school set in enormous wooded grounds which, with its excellent sports facilities, its warm atmosphere and a house in the grounds offers him a lot of what he wants in a job. He will, I think, enjoy it there; the boys and the staff certainly will.
D.R.W.

B. D. MILLER


We have, sadly, had to bid goodbye this year to Brian Miller, who, apart from his work as Head of Economics with sixth form groups, contributed a great deal of his time and effort to the sporting activities of the School, particularly with hockey and cricket teams . He himself held a Cambridge "blue" in hockey and the University was probably also responsible for developing in him a notable talent for satirical humour, mimicry and plain zaniness of the "Footlights" variety. The School at large probably thought of him as a quiet, unassuming, even shy member of staff; during staff socials, however, particularly in the "Valentine Follies" of happy memory, he emerged as a compere and performer of great wit, capable of reducing his audience, through songs, sketches and monologues, to helpless laughter. One of his other chief enthusiasms was for jazz, and for some time he encouraged an interest in the less popular forms of contemporary music by running the Jazz and Blues Society. He has now gone to take up duties as Head of the Sixth From in Colston School, Bristol and we wish Brian, Margaret and the rest of the family a very happy future there.
D.M.B.

J. PAINTER


She came to Hardye's as Joan Dalrymple in September 1977, in a short time became Mrs Painter and finally left at the end of the Spring term in order to prepare for the birth of her baby, so although Joan's stay was far too short, the two years she spent here were certainly eventful, in a very happy sense. She is now the proud mother of a fine daughter and we wish her well in her new role in the hope, probably a vain one, that her present responsibilities are less onerous than those she had to cope with at school.
Joan was someone who combined strength with charm, a most friendly and cooperative member of staff. Her approach to those she taught was both firm and sympathetic; as a teacher of considerable experience, and the daughter of a head master, she communicated clearly and expected high standards while maintaining a classroom atmosphere that was relaxed and good-humoured.
There may be those in the school community who may derive satisfaction from yet another step in the apparent (and surely temporary?) decline in the Welsh presence at Hardye's, but I am certain all will agree that Joan was the sort of teacher and person whom no school likes losing. The English department, and the School as a whole, will miss her.
D.M.B.

J.R. ROBERTS


At the end of the spring term Mr John Roberts left us to take up a new appointment as Head of sixth form at Faringdon School, Oxfordshire. He will be greatly missed. not only by all members of staff who knew him as a warm, friendly personality but also by many present and past pupils of the school, especially members of the sixth form to whom he gave much individual attention. He left his mark on many aspects of school life; as master in charge of German where he encouraged and organised many contacts with Germany, as coach to middle school rugby teams and as organiser of the American exchange, 1978. Many people will also remember him for his excellent guitar playing and he devoted much of his free time to instructing pupils in the art of playing the instrument that he loves so much.
We give him and his family all our best wishes for the future and hope that they will come back to see us as often as possible.
EIN PROSIT. JAKE! D.C.L.

J.J. WATERMAN


Jim Waterman, who left this summer, gave much to the school during his stay here. He is now to be found ploughing the Spanish Main in the manner of a new Blackbeard. Sailing has always been his first enjoyment and he is a very competent skipper. The opportunity arose this year to skipper a chartered boat in the Carribean. This was too good an opportunity to miss. He has taken along with him a cook (which is one way to obtain a fiancee!).
Jim's contributions to school life were on the sportsfield and in the CCF (Navy). He was seen at his best when teaching the lower school pupils in the various sports and they responded well to him. This was not his only contribution as among other things it was he who has moulded the current U 15 side into the team it is today. His activities in athletics and cricket are also as noteworthy.
Although he was a member of the CCF for only a few years he was able to give the wealth of his sailing experience into teaching the rudiments of sailing. This has been much appreciated by all concerned.
Jim was one of the school's characters and will be much missed by both staff and pupils . We wish him well in his double change of life.
R E.S.

The changing face of Hardye's




"With thanks to H.M.S. Osprey."
NEWS OF OLD BOYS
In January we heard that Andrew Sellings had successfully completed his first year as a Royal Navy apprentice. He has now been drafted to HMS Daedalus and has 3 years more training to do in aircraft engineering. In exams, he won 2nd prize for the best overall results in the Craftsmanship section.
Captain N.G.W. Lang BA RA, of the Royal Regiment of Artillery, Woolwich, London wrote in August with news that Carl Musgrove had just done a Young Officers' course and was about to be appointed to 29 Commando Regiment RA. stationed at Plymouth, Devon.
Finally we were pleased to hear that Andrew Bauer-Mussell has achieved a 1st Class Honours Degree (BA) in German from University College, London.
To them, and to those with successes we did not get to hear about, our congratulations and best wishes for the future.
SOUTHFIELD HOUSE (The Truth)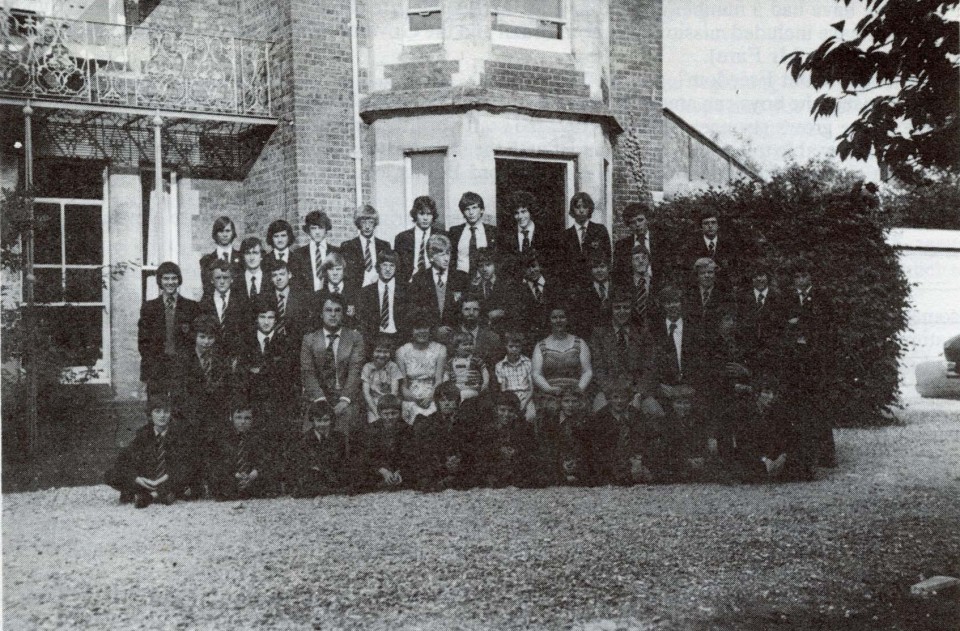 Perhaps this looks more like the title for an explicit Sunday Newspaper article but in the history of boarding houses in the school I am sure that rumours have always been present.
The idea of this report is to give a short history of the house and then answer the usual questions that we are asked by people at school.I hope that I do not offend any member of our house in doing so.
Mr David Caldicott came to the house in 1971 taking over from the last Headmaster, Mr Hamilton. The former stayed for six years before retiring very comfortably to the north of Scotland. The house still keeps in touch with him.
Mr and Mrs Applegate then extended their young family when they joined us in 1977. Mr Applegate is quoted after his first week: "I never knew that life could be so unpredictable!" But I think that he and his family have now settled down and are welcome among us.
The boarding house usually has one house tutor, indeed with Mr Caldicott we went through spasms without one at all. The house at present runs on three: Mr T. Griffiths, Mr R. Moss, and Mr T. Lee. It has been said that if we have anymore they will have to be put into dormitories and the boys can have their own private rooms.
House tutors usually stay at the house when they are new at school and awaiting other accommodation. Well known ones in the past have been Jim Waterman, Alan King, Bill Pyke and Peter Vekic.
Why do boarders nearly always win everything on the sports field?
Boarders have always formed the bulk of school teams. Bearing in mind that an approximate equal number appears from Heathcote, Southfields in 1979 have 20 Rugby Players, 20 Hockey players and 12 Cricket players.
Cross Country and Athletics teams are not so well supported but Treves, the name given to the two boarding houses combined, can still carry away the sports cups. Perhaps the reason is that boys from the 1st form are encouraged to participate in games involving the house with older boys. This eliminates any chance of a young boy becoming an individualist in Athletics for example, unless he is a natural.
So a boarder soon becomes a member of a team and knows that he is expected to pull his weight in everything that we do. Any praise earned is usually a team effort whether it be from a house inspection or remarks from a visitor.
We have had a number of visitors since Mr. Applegate came. They invariably come to Sunday lunch and have included missionaries from Brazil and the Governors of the house, of which we have two (Mr Frisby and Mr Fare).
What about Freedom?
Most of the boys can amuse themselves around the house but as we grow older the need to get out of the house grows stronger. We then find the staff very flexible in any "exeat" privileges. A young boarder is now able to get into more contact with the Dorchester people than ever before with admission to Youth clubs at the Modern School and Dorford Baptist church.
How can you stand being a boarder?
The fact is that not everybody does. When I first arrived in 1973 there were eleven boys in our year. There are now only three of us left with nobody leaving after five years.
What is the atmosphere like?
I cannot for one moment say that everyone is always on the top of the world; there is always someone grumbling about something but there is always someone who is happy about something. Human nature I'm afraid. But generally we do very well seeing that there are forty boys in the house popping in and out of adolescence whilst living in such a close community.
How old is your Matron?
A question often recurring whenever anyone meets Mrs Lock. They always look in disbelief expecting a battleaxe of at least a hundred years old while she is in her early . . . well, let's say that the answer rests with the Gods.
There are of course many more questions to be answered, but with little space here to fit them all in. I suggest that you ask us personally if you see us at school functions (we're the strong healthy ones).
Special thanks to all the teaching staff with connections with the house, especially Mr Lewendon for staying whilst Mr Griffiths was away. Also to the cleaning staff and cooks for their appreciated contribution to the running of the house.
And finally to my predecessor R.G. Watts for his hard work and dedication, we wish him well in the future and will miss his character and good humour which was always prominent wherever he went.
Mark Lewis

HEATHCOTE HOUSE
(say no more!)


Head of House: Michael Robertson
Last year was the first complete year following the amalgamation of Heathcote and South Walks. On the whole, it was a very enjoyable year with numerous successes in both academic and sporting fields.
The Autumn term went very smoothly until December when there was an outbreak of 'Red Flu' in the house which downed practically everyone in the space of a couple of weeks. Full credit must go to Mrs Lord who coped with the crisis very well indeed. The successful end of term celebrations included a surprise trip to see "Superman" at Yeovil where we almost got snowed in, and an end of term dinner with Mr and Mrs Trewhella, (House Governors) Mr and Mrs Walden and Mr and Mrs Robertson who were specially invited as this year ended an era of Robertson boys at Heathcote.
In the spring term a colour television and snooker table arrived, both being very popular with all age groups in the house. Numerous boys represented the school in various teams including an interschool quiz competition.
The A-levels were of a high academic standard with Steven Bloustein attaining 2 A's and a B. Similarly, the O-levels were good with both fifth years and lower sixth achieving good grades.
We said goodbye to Andrew Ralph at the end of the summer, who was moving on to another school to commence his sixth form. Andrew was a loyal member of the school, supporting many school teams in all sports during his stay at Hardye's.
The Autumn term marked the arrival of Mr Lineton who is to assist Mr Green as a House tutor. May we wish him every success in the future.
A special thanks must go to Mr and Mrs Lord and all the Staff at the house for keeping it clean and running smoothly.
Jon Easterbrooke